[ Suitable Attire ]

Imagine the situation. You're in Carryduff (or Saintfield). The natives are walking past you pointing fingers and laughing so much that some of them actually fall over. This doesn't sound like a great start to your holiday does it? This section will help you to avoid this situation.

What they were laughing at was your clothing. You definitely stood out as a tourist (and we know how much they don't like "outsiders"). On this page you'll find out what people all around Northern Ireland wear for clothes.

Suitable Attire for Young Girls 4-8

*Please Note: girls face has been hidden to protect identity.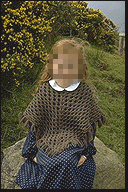 As you can see from the picture, the best attire for 4-8 year old girls is navy dress with white polka dots, a lovely brown shawl and a rock to sit on. Hair colour is optional.

Suitable Attire for Young Boys 4-8

White shirt, brown "waist coat" and brown trousers. Shoes are optional.

Suitable Attire for Teenage Boys

*Please Note: Due to the Brightness of the Luminosity no pictures were able to be taken. Entire rolls of film were ruined by the amount of light shining on the lens.

Kitting out Teenage boys is rather easier than expected. If you are bringing a teenage male into the country, it's best to follow these guidelines, to make him fit in:

Hair:
Shaved back and sides, leave a "fringe" and apply liberal amounts of hair gel/spray

Facial Hair:
As much as can be humanly possible for a 13 year old

T-Shirt:
Polo style, thinly striped if possible in most garish colours possible

Jacket:
Shellsuit type jacket / Tracksuit type jacket *MUST* have 3 stripes running down length of arms, Tan colour

Trousers:
Blue denims are acceptable by the masses

Shoes:
Must be brightest coloured shoes available. Failing that, Tan coloured boots will suffice.

Headgear:
Sports cap, which must be logo orientated. Worn at a 45 degree angle (I know, seems to defy gravity, but hair gel will hold it in place)

Misc:
11 pieces of gold jewellery- 5 Rings, 2 bracelets, 2 necklaces and 3 earrings
Pool Cue optional

Suitable Attire for Teenage Girl

Ideally, if you are bringing one to Northern Ireland, she should be pregnant. This is one feature that will make her blend in. Most non-pregnant teenage girls, or Millies as they are commonly known, are at least a stone over-weight and have a large, gaping mouth. Chew 4 pieces of gum at one time.

Hair:
Permed beyond belief. Should defy rational thought. Highlighted (badly) blonde. On warm days. tie hair back with 15 individually coloured "scrunchies".

Make-Up:
Apply liberally.

Jumper:
Any jumper, as long as it has a large brand name across the chest. Navy / Purple

Jeans:
Again Blue denim is acceptable, though many choose navy trackpants with 3 white stripes

Shoes:
See Teenage Boys

Misc:

Very large gold hoop style earings. Followed by Claddagh style earrings. One per ear. A multitude of Necklaces.
Bracelets
A pram
Mobile Phone
4 friends dressed EXACTLY the same


Some adults dress exactly the same as their teenage counterparts, while most tend to try to dress like normal humans.