[ Local Delicacies ]

The food in Northern Ireland is as diverse as its people. This section of the site will educate you in the ways of Norn Iron eating and eateries.

Northern Irish people love to eat nearly as much as they love to drink, so when you meet a Northern Irish person the chances are they'll be eating or drinking.

The Food:

A firm staple in any Norn Iron diet is Tayto Cheese & Onion. Tasty on their own or in a buttered piece, Tayto Cheese & Onion are, as the locals put it, "The bee's knees" or some other appendage from some other animal.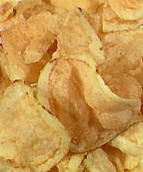 The Pastie Bap is 100% pure Northern Irish through and through. Invented in 1987 to counter the popularity of Wimpy Burgers in Belfast, the Pastie Bap can be found in most Chippies. There is no need for side salad or sauces with one of these, they are perfect on their own.

Every household has Stew at least once a week.

Jaffa Cakes are mandatory.

'Taty Bread (Potato Bread) is made in kitchens all around the country and eaten by millions. Some old lady in each street is finishing off a batch 'Taty Bread every 74 seconds in Belfast. It is still a mystery why some folk insist on buying theirs from the Co. And why it's called bread exactly remains to be seen. You can't buy a loaf of Potato Bread. Another unique feature of the floury, bakery landscape that is Northern Ireland.

If 'Taty Bread is the daft prince of Norn Iron cuisine, then Soda Farls are the Supreme Emperor. If you have visited Northern Ireland, visited all the sites mentioned in the Places of Interest section, if you have "learnt the lingo", if you've had a Pastie Bap, if you've visited anywhere else in Northern Ireland and you leave without trying a Soda Farl stuffed with fried eggs, sausage and bacon, then you have never visited Northern Ireland. Sodas are the total king of foods in Northern Ireland. You'll love them so much you'll bring some home for your own Granny. And you'll be back for more in a matter of weeks. Floury, tough, chewy, moist, greasy and fattening.