[ Places in Northern Ireland where you might
meet a Northern Irish person ]
In this section we hope to list some of the best places in Northern Ireland for you to show off your newfound skills. At these "attractions" you will encounter a varied slice of the Northern Irish pie. We will provide a brief description and the types of people you're likely to meet.

[ Barry's Amusements ]
Portrush, on the North coast

Portrush is the destination a lot of Northern Irish holidaymakers choose. Its got beaches, pubs and clubs. And it's got Barry's. The biggest Amusement Arcade in the world. From Rollercoaster's to Tup'ny Nudgers. Barry's has it all. With indoor and outdoor amusements, it'll certainly make you're holiday more exciting, for all the family. You can ride the infamous "Ghost Train" or squirt water at the plastic Firemen. Drive the radio controlled lorries or bash funny looking soft toy hippos with an oversized pink mallet for tokens you can exchange for fake blood.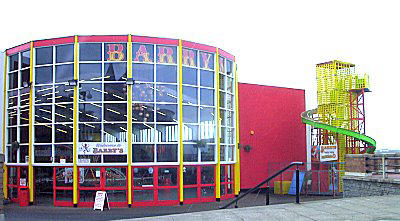 Just look at the Mega Swirly Slide!
As it's situated in the North of Northern Ireland you'll bump into a lot of country folk. There is no need to be wary of country folk. In Northern Ireland, we call them "Cultchies". Although they sound like a chocolate bar, we can assure you they are not. Understanding what they say can prove difficult. The best way to bridge the gap of understanding, is to carry a dictaphone. Here is our handy cut out and keep guide to:

[ Dictaphoning a Cultchie ]

1] Record what is being said to you with the Dictaphone [in your right hand]
2] When it's time to reply, extend your left arm and hold out your hand, indicating to the Cultchie to wait
3] Rewind the cassette to where the Cultchie started speaking, and switch the Dictaphone from Normal Speed to Half Speed
4] Listen to the slowed down and lower pitched "sentences" and try and decipher what was said
5] When you have figured it out, make eye contact with the Cultchie and lower you left arm. This signals to the Cultchie you are about to respond
6] Respond
7] Return dictaphone to Normal Speed and continue recording
8] Repeat process until the conversation has finished

Remember, there is no need to imitate the Cultchie Accent when replying. They will most certainly be offended by this.

Other folk you might meet at Barry's might be from Belfast. Belfast people travel on the train to Portrush in their droves. You already know how to be with a Belfast person so no extra lessons needed. Some might come from abroad. Like the Isle of Man.

While up at Portrush you could visit:

[ Waterworld ]

Truly a world of water, you could literally spend a whole day in there shrivelling up like a prune. Awarded Best Chlorine in the North Award 1986.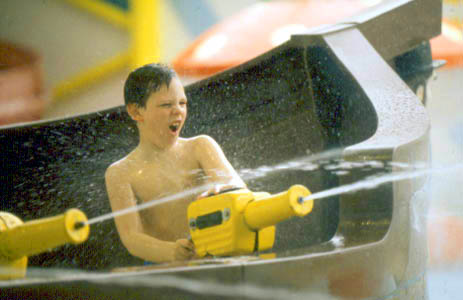 Good Clean Chlorine Drenched Fun


[ The Giants Causeway ]

One of the wonders of the world is the Northern Irish Giants Causeway. No-one really knows what a Causeway is. Rather in the same fashion that many folk have no clue what a Henge is. We don't know what a Causeways is, but we know for sure that The Giants Causeway is the best example of one.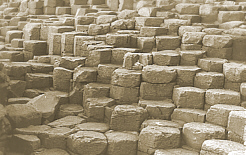 Pillars of volcanic rock in a Hexagonal shape, supposedly built by giants feuding with other giants. But, rather like the native snakes in Ireland, the giants a few and far between. No-one has seen a giant in years. Everyone knows it wasn't giants that built the Causeway, but it was mother nature. A natural sight that could bring any geologist to tears.

Well, what is there to do at The Giants Causeway, I hear you think. You can climb on the stones, marvel at the beauty or like most people, complain that it's too cold. But we are sure you'll find it an amazing day out. Open top bus tours of the Causeway and coast are very entertaining and educational.


[ Bangor ]
Bangor, North Down

Bangor is situated on the Ards peninsula [the bit that sticks out like a witches nose]. Beaches, chippies, amusements, a Marina and a Tackle & Bait shop are some of the things that attract tourists to this seaside resort.

The magical thing about Bangor, is that it's a holiday resort whatever the weather! The high seas could be threatening to burst through and flood the town, and the tourists will still be arriving!

Let's get you to Bangor first:

You can drive by car, which is boring, to Bangor as it's only 12 miles from Belfast. The most popular choice of tourists is the train from Belfast's Central Station. Your train will pass by many of Northern Ireland's hotspots, but one of the stumbling blocks you might find yourself falling flat on your face with is "Bangor-West". Don't be fooled by this clever ploy designed to trick tourists. Bangor-West is a makeshift station, built by con-men. DO NOT leave the train at this point. You will know the proper Bangor when the train has run out of track. Bangor West was invented in 1984 by a group of theives and con-artists, wanting to muscle in on the NI Tourist Office successful tourist destinations. So they set up their own. Bangor West is almost a carbon copy of Bangor with places like, "Wart Park" and " The Machines" [a cheap copy of Bangors acclaimed "The Amusements"]. Avoid Bangor West at all costs. Your powers of deduction surely would indicate it to be a bad place as there is no Bangor North, Bangor South or even Bangor East!

So you arrive at Bangor station. What do you do now?

First of all, get out of the station and onto the Main Street. From here most people walk towards the seafront. No-one ever walks the opposite direction [toward Bangor West]. You will find a multitude of shops and chippers where you can spend cash and eat food. On down the street, you'll arrive at the seafront. You can go left, to the Marina or right, to The Amusements". "The Amusements" used to be the main attraction at Bangor, but since the Marina was built, no-one goes there now, apart from foul smelling locals who smoke too much.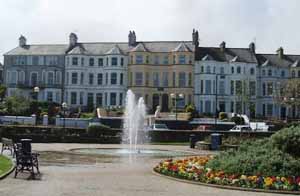 [ The Marina ]

Here you can pedal big plastic swans around a pond for £4 per person per 15 mins, great value I think you'll agree. Inside the coffee shop, you'll never find a seat, so queue up for your Ice Cream then go back outside to make sure no-one has crashed a swan. There is a play area for the kids and a small scaled down Steam Train for rail enthusiasts that scoots around the complex. On windy days you can see kids being thrown from the train at speed.

[ Ward Park ]

One of Bangor's hidden treasures. Instead of going straight down Main Street you can follow the signs to Ward Park. This park boasts not only grass and swings, but a load of animals to feed and pet, and a massive cannon! You read correctly, a cannon. Not an ordinary cannon mind you (not one those ones with wheels and cannonballs) as it was used in World War 2 and it fired proper shells. Considering where it is situated, it's hard to believe it was useful in the war, which leads us to believe it was an early form of crowd / population control.

Elsewhere in the park are steel cages which house an assortment of live animals. Be cautious around the Geese that roam freely around the park. They will most certaintly have no qualms picking off a small child that has gone astray.

[ Night Life ]

As you will experience, most tourist leave Bangor before dark. It is advised you do the same.

There are a few night clubs, which are better avoided, and the car parks around the town will fill up with young people and their cars. This is the saddest part of Northern Ireland society. Groups of teenagers and their "souped up" cars, maybe a Corsa with a windscreen sticker or some seat belt covers. Known collectively as "Boy Racers" they are a scourge of this picture-esque seaside town. (You'd think because we know their exact location en masse we could effectively wipe them out. There's that cannon. No-one has bothered yet. I suppose the effect on the economy would be detrimental as baseball caps and Taz air freshener sales would drop significantly.)

There has, however, been an increase in the Goth variety. These hippies have enjoyed the turf war with the Spides ever so much. After they shout "Ballix" at each other for an hour or two, they go home to watch Corrie and scrub that shit off their face before Mum gets back from the bar.

Enjoy Bangor!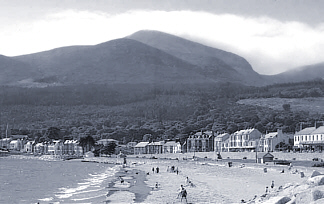 Newcastle, Circa; 1732
[ Newcastle ]

Camping, swimming, running and jumping.

That's what "Newcastle-Upon-The-Mountains-of-Mourne" is all about. And it's the place to be on a Bank Holiday if your visit coincides with one. You'll know if it is a Bank Holiday if it takes you thirty minutes to get from the start of the town to the middle (where the fun is).

In Newcastle they have their own "The Amusements" which would rival Bangor's, but are still no match for Barry's. One plus point it has over Bangor is that it actually has a seafront with sand, rather like a beach. The kids will love it, your Granny will love it and you might even enjoy it yourself. There is a whole host of activities to keep everyone in the family occupied. There is a "fun" park, where they have the usual park facilities like swings and round-a-bouts, but it also boasts a massive multi-lane slide where they hand you out old potato sacks to sit on when it is your turn. There is also a "fun" lake with motorised rubber rings rather than the traditional big swans.

If all of that is too much for you why not visit Tropicana, Newcastle's outdoor swimming pool?! Whether it is cleaner than the Lagan is debatable, but it will ensure your kids get a taste of salty water without the worry of them being washed out to sea! Authentic sea creatures and murky water provided at no extra cost to the public!

Tullymore Forest is at the foot of Slieve Donard (the worlds tallest mountain) and will have you tending to nettle stings on your kids legs for hours.

[ This page will be updated frequently with new places to go meet Northern Irish people in Northern Ireland ]